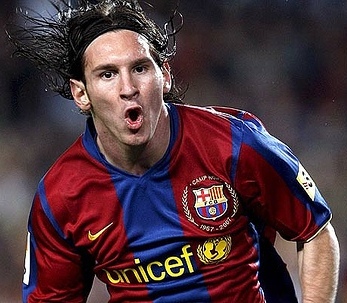 After the 2011 Champions League Final, FC Barcelona got all sorts of rave reviews, with most observers debating about whether it was the greatest club team ever assembled. This is discussion for another time. Inevitably, their best player was touted as the greatest player of our time; and possibly ever.'The Messiah', 'The Boy Wonder' First of all, I'd like to categorically state that I don't buy into that 'best ever' argument, even being as much of a Messi fan as I am.
In such an argument, the variables are too many for one to come to unanimous decision. For example, comparing players who played who played in different eras is an exercise in futility. The Maradonas played in an era where international football took precedence over club football; players from outside Europe could play for clubs in their home countries and still be considered the best in the world, Pele being a case in point. Also, the statistically such an argument would be flawed because if one looked at goal tallies, for instance, modern players play in a Champions League format that involves various Group stages whilst the old European Cup was a straight knockout competition. The World Cup now has 32 teams; there was a time when it was an invitation only tournament! Modern footballers play nearly twice as many games as the older ones did per season.
This brings me to the argument about Messi being the best player in the modern era .i.e. from the 90s on. Someone can't be the greatest in a vacuum; we have to consider whom we are comparing him with. I think most would agree that, all factors considered, we'd have to juxtapose his skills with those of the Brazilian sorcerer Ronaldinho and the French maestro Zinedine Zidane.
All three players were blessed with extraordinary technique, vision and the ability to 'see' things and paint mental pictures that mere mortals just can't. Messi's phenomenal goal scoring record, in many people's eyes, overshadows a very big part of his game – his passing ability. It's hard to believe but he had the second highest assist total in La Liga last season! By my reckoning, Messi and 'Dinho' aren't far apart in this category, the Brazilian just made every pass – every touch on the ball really – a joy to behold. Maybe it was the permanent toothy grin.
In this category, the French maestro takes the cake. I don't know if it's just me but many a time as I watched the French national team in World Cup 98 and Euro 2000, Zizou would play a pass, seemingly to no one and I'd spit some un-printables in his direction. A second later, I'd eat my words as Lizarazu or Thuram ran onto what turned out to be a delicious through pass. I haven't seen any one with that kind of vision since. Xavi gets close though.
In terms of goal scoring, Messi outshines his competitors by far. He's now scored over 100 goals for Barcelona in the past three seasons! It took 'Dinho' 5 years at Barca just to crack 100.

And that's probably more than 'Zizou' scored in his entire club career. But a judgement based on goals is skewed in Messi's favor because he plays in a more advanced role; and the other two were more of facilitators than goal scorers.
Regardless, they all have one thing in common; their goals have taken our breath away severally over the years. Ronaldinho's samba dance goal against Chelsea. Zizou's volley. Messi in UCL 'El Classico I' These goals don't need further description; everyone remembers them at the drop of a dime. There's a certain 'wow' factor these goals have. Anyone, seeing such goals and such moments, feels the need to rub their eyes, ask themselves if they actually just saw what they think they saw, and wait for the replay to confirm. After that all one can say is "WOW!" One can't help feel a sense of history when watching geniuses like Messi play. Ronaldinho, resoundingly, takes this category. I am sure John Terry, Peter Cech and co. are still bamboozled by that goal; and all the victims of his elasticos still can't believe they fell for it. And we all remember that surge of electricity when we witnessed these moments.
The one factor that divides the absolute upper echelon of players from the not so great, is how their opponents react to them. This reaction is always a good pointer to how great a footballer is because who better to gauge greatness than fellow footballers. When these players have just emerged on the scene, most opponents try to neutralize them by kicking them incessantly; or trying to man mark them in a bid to deny them any influence on proceedings. As their careers progress, they adopt their games in various ways to counter this 'anti-football' campaign against them; more efficient off-ball movement, more economical touches on the ball, you name it. All the same, the way opposing players approach a footballer tells one a lot about his greatness.
In a Champion's quarterfinal at the Bernabeu between Real Madrid and Manchester United back in 2003 which ended 3-1, something truly remarkable happened. Madrid's Zidane was so dominant in the midfield that at some point in the second half, Zizou picked up the ball from his half and casually strolled halfway across the park while skipping over the ball while Roy Keane and co. just backed, further into their box. Roy Keane, arguably the most combative and no nonsense midfielder of the Premier League era! Before the Euro 2000 final between France and Italy, Azzurri coach Dino Zoff was asked how he planned to contain Zidane. He said, as a pragmatist, that was impossible and that the better idea would be to hopefully keep Anelka and Henry, the beneficiaries of his brilliance, under check.
I wonder what happened next.
Something similar happened in a

Champions League fixture between AC Milan and Barcelona at the San Siro (Barca won 1-0 thanks to a Ludovic Guily volley off another of Dinho's 'eye of the needle' through balls). One moment captured the respect (or fear) that Gaucho had instilled in the Milan side. Just before the said assist, Dinho picked up the ball and looked around. Andrea Pirlo, who was nearest to him backed off. Gattuso hesitated for a minute, and then at the prompting of Pirlo, made his approach. His worst fear was realized as he was shrugged off and the pass sent on its way. The rest is history. The lesson being, if you can get illustrious opponents like Gattuso, Pirlo and Keane to be so in awe, they think twice about attempting to dispossess you, you have arrived.
Messi doesn't yet seem to have instilled that awe in his opponents. Yes they fear him. Yes they know he can run rings around them. Yes they know he can unleash thunderbolts or well placed shots with a flick of his left boot. Yes they know he can nutmeg their entire defence. And yes they know he scores hat-tricks for fun. But they still throw themselves at his way and they seem to have a genuine feeling they have half a chance against him. I get the feeling it has something to do with his stature and/or his seemingly humble, unassuming demeanor.
We also can't underestimate the value that winning adds to a player's claim to greatness. In the end, the game is played with the aim of winning trophies, both individually and as a team. The 'Messiah' has been named World Footballer of the Year twice(2009 & 2010), he won 5 La Liga titles, 3 UEFA Champions League(UCL) titles and an Olympic Gold in 2008. Zidane, on the other hand, won the Serie A twice with Juventus, 1 La Liga and 1 UCL with Madrid. With France, he won the World Cup in 98 and Euro 2000. He was also named World Footballer of the Year 3 times, a record he shares with the Brazilian Ronaldo. Ronaldinho won 1 each of La Liga and the UCL in Catalunya. He won the World Cup with the Selecao in 2002 and the Copa America in 99. He was named the best footballer in the world twice, back to back in 2004 and 05.
Through this mini-analysis, I think it's fair to say Messi has just about pulled level with Ronaldinho in the upper echelon of elite footballers. Another two years at the top and he'll have the buck toothed Brazilian in his rear view mirror. Zidane is going to take some catching though and that will all depend on how far Messi can drag the Argentinean national team in international competition. At 24, barring injury and/or loss of form akin to Kaka , it wouldn't be wise to bet against him. When all is said and done, his accent into the pantheon of football's greatest is tied with the fortunes of Argentina.
People will always argue that his club success is due, in large part, to the greatness of his Barca teammates and this is a notion that he can dispel only by willing his average national team to a World Cup win for example just as Zizou did with France in 98. Zizou did it with Karembeu, Guivarch and Henry as a winger. Messi should be able to pull it off with Tevez, Kun, Mascherano and co. Otherwise, he'll forever be known as 'El Catalan'- a somewhat scathing nickname given to him by those who resent him for never having played a club game in his native land, and his 'dismal' performances for Argentina!